DONOR IMPACT
STUDENT-ATHLETES STORIES
---
Meet the Men & Women benefiting from the philanthropy of donors like you!
Flynn Fund Donors Help BC Baseball Soar
In 2016, the Boston College baseball team made a run deep into the NCAA Tournament, advancing to the Super Regionals as one of the top programs in the country.
What brought the Eagles success was not solely the pitching of first-round draft pick Justin Dunn or the performance of Jacob Stevens, who was named a Freshman All-American. It was the sum of individual efforts and a commitment to the team—and the impact of donors like you.
After starting 8-0—the best start in BC history—our Eagles went on to win a program-best six conference series, including those against NCAA Tournament site hosts No. 2 Louisville, NC State, and Virginia.
"It wasn't an overnight success, but rather a product of building the program over the years—and forming a brotherhood built on the values of character, toughness, and class," shared Coach Mike Gambino.
Donors like you also played a significant role. Flynn Fund gifts allowed the team to invest in elements that improved performance and ultimately led to more wins. BC Baseball traveled south during the harsh New England winter so the Eagles could prepare to take on top teams during ACC competition. And when the Eagles made the postseason for the first time in seven years, the team was able to charter flights to Oxford, Miss., and Miami, Fla. In this way, Flynn Fund donors ensured that the team wouldn't lose precious practice time preparing for the NCAA Tournament.
Your impact can be felt off the field as well. BC Baseball makes a difference in the community by supporting initiatives like the Wounded Warrior Project and ALS research, a cause led by alumnus and former captain Pete Frates '07.
BC Baseball is just one of many success stories that your unrestricted gifts make possible—for our 31 sports and over 700 student-athletes. Thank you.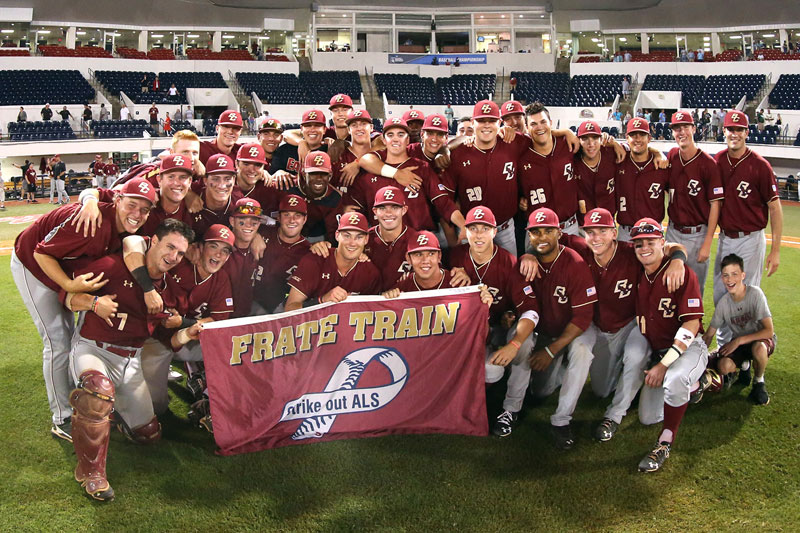 My journey has taken me from the Philippines to the Heights. It's one I never thought I would make. And it's certainly one I couldn't have made without donors like you.
I began playing golf in my home country at an early age. I loved the feeling of freedom it gave me to be out on the course. It cultivated a sense of peace. But also a sense of confidence. I knew I wanted to pursue my passion in the United States. I wanted to compete with the best-both athletically and academically. That's why I was so unbelievably grateful to receive an athletic scholarship to Boston College. But of course it hasn't been easy. Adjusting to life in the U.S. and to BC's rigorous academics has been a challenge. There were days when I missed my home and days when I didn't know if I was good enough.
Yet I've come to view these obstacles as a source for growth. My coaches, my professors, my teammates, and the entire BC community have always been there for me. Quite simply, BC has become my family. And I've always tried to make them proud. I was fortunate enough to be named ACC golfer of the month after winning the Dartmouth Invitational this fall. More importantly, our team placed first in three of our four fall tournaments-an unprecedented accomplishment for BC Women's Golf.
I'm proud to represent BC in the wider community too. I volunteer with the Girls Independent Golf League-helping young girls improve their skills and their sense of self-worth at the same time. It fills me with a sense of pride and gratitude.
I wish to share some of that gratitude with you today. I know I wouldn't be at BC without Flynn Fund donors like you. A scholarship can change a life. It certainly changed mine-and for that I'm forever grateful.
Thank you!
Lois Kaye Go '20 Women's Golf
Without a doubt, Boston College has long been one of the more influential forces in my life.
It was here at the Heights that I learned what it means to be a true team player, to make sacrifices for the things you believe in, and to support a mission that is greater than yourself.
Since childhood I have attended countless BC football games with my family, which fostered my desire to become an Eagle. Receiving my letter of intent was a dream come true because I never could have afforded to come here on my own. My scholarship was truly a blessing. This assistance has enabled me to grow as a student, an athlete, a friend, and a well-rounded person ready to face any challenges that come my way.
When I am not running plays on the field as a linebacker, I am studying marketing in the Carroll School of Management. Juggling the responsibilities of being a student-athlete has taught me how to deal with obstacles, both in the classroom and on the turf. A great source of encouragement is knowing that my teammates are rising to the same challenges and that we can lean on each other for support.
One of my most rewarding experiences this year has been training twice a week with a team of fellow student-athletes and an inspirational group of Wounded Warriors through a pilot program organized by BC Athletics. I feel a special sense of comradery with these men and women because I will enter the United States Army Special Forces after graduation. I identify with the Green Berets because of their mission to assist oppressed peoples around the world. My upcoming journey will be mentally and physically demanding, but I know I'm ready.
Formed by the values instilled in me at the Heights, I am motivated to make the world a better place. Thank you for changing my life. Without you, none of this would have been possible.
Sincerely,
Tim Joy '16 Football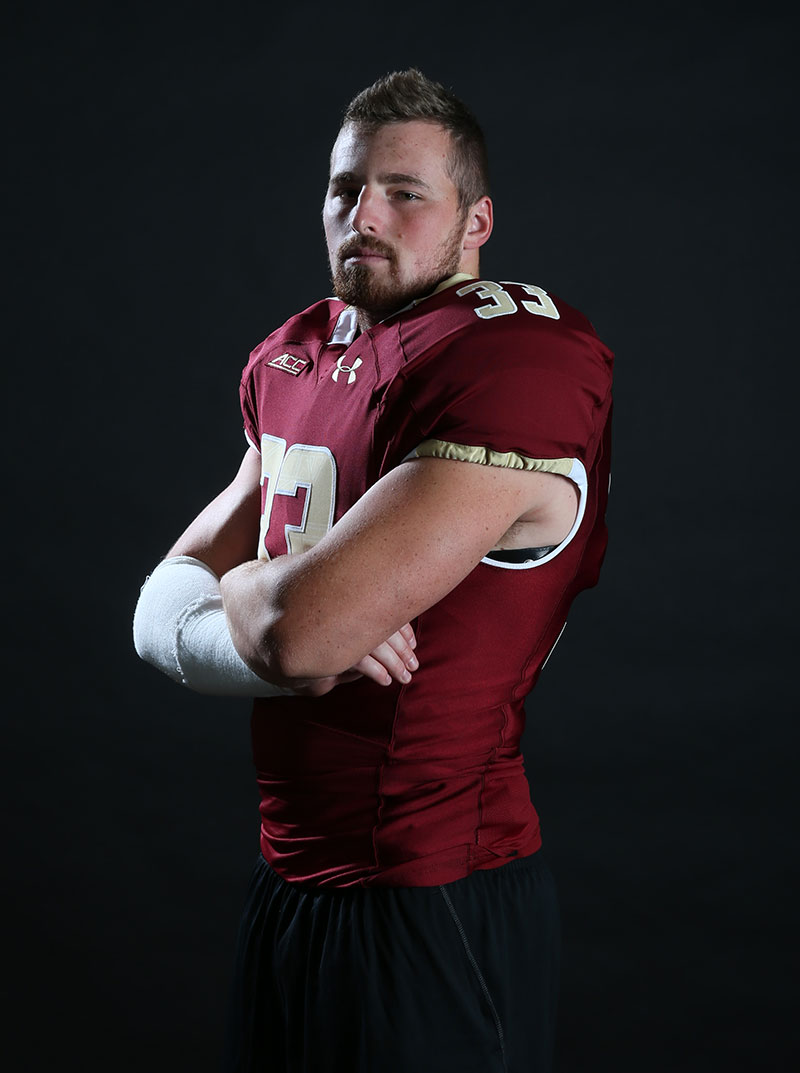 When I signed my Division I letter of intent during my senior year of high school, I felt extreme pride. It was as if all my accomplishments were represented in that letter.
Now I'm honored to be both a member of the women's soccer team and part of BC's amazingly talented student body. I'm here on a full athletic scholarship thanks to generous donors like you.
I started playing team sports at the age of four, and soccer was always my favorite. I love it because it teaches you to work with other people, a skill that you can use every day.
As center back, I'm the last line of defense. I must be able to communicate with—and receive information from—everyone else on the team to do my job effectively. Coach Foley empowers us, concerned with developing us not just as players, but also as people. Coach emphasizes that all team members are leaders and encourages the quiet ones to speak up. She led us to yet another NCAA tournament appearance—the 18th time the women's soccer program has received a tournament berth. It made me so proud to be part of Eagle history.
Your donations to the Flynn Fund this fiscal year help teamwork and life lessons flourish—for me and all BC student-athletes. You're giving us experiences we'll never forget. I know I speak for other Eagles when I say thank you for your gift. You've made a difference.